Overview
CALL FOR NOMINATIONS IS NOW CLOSED!
Nominations are now CLOSED for the President's Awards for Community Engaged Research, which will recognize teams of campus and community representatives who have demonstrated a commitment to initiating and supporting excellence in community-campus research initiatives.
Developed to recognize and celebrate local (Golden Horseshoe and southwestern Ontario) community engaged research partnerships that exemplify McMaster's definition and principles of community engagement, the award will include a $10,000 grant towards furthering a specific community engaged research project.
McMaster students, staff, faculty, or community partners are all able to nominate colleagues and partners who have developed or are leading principled community engaged research partnerships that are having an impact on their community.
Please direct any inquiries to Ashley Shinde in the Office of Community Engagement at community@mcmaster.ca.
You can also download more information. 
nominations will open in december 2021! see you then!
The President's Awards for Community Engaged Scholarship will be available to teams with a minimum of one (1) faculty member and one (1) representative of a community group who have demonstrated a commitment to initiating and supporting excellence in existing community-campus research initiatives. The definition of Community Engagement used to evaluate submissions includes:
Valuing the expert knowledge and passion that members of the community have about their communities and issues affecting them
Fostering ongoing collaboration between University and community partners on how to better understand and consider the issues identified as priorities by local communities
Performing research with community members and partners for the public good within the local community.
Community representatives may be from the public, not-for-profit, private sector, or from a grassroots community group, as long as the overall initiative meets the definition of Community Engagement, defined above. Initiatives must be established and in existence for a minimum of one (1) year to be considered.
All nominations will be evaluated based upon the following criteria:
How the partnership aligns with McMaster's definition of community engagement (see above)
How the partnership strives to model McMaster's principles of community engagement
How students have been involved in the project—building capacity for future leadership in the field
How the partnership has supported and/or inspired change in the community(s) where the partnership is working
How the partnership plans to use award money to further their efforts
The selection committee requests nominators to submit a nomination package by Friday February 12, 2021 to community@mcmaster.ca.
Each submission must include the following items:
Nomination Submission from nominator that can come in one of three formats:

Written submission: 2 pages maximum
Video submission: 2 minutes maximum
Audio submission: 2 minutes maximum
Regardless of the type of submission, and considering the evaluation criteria noted above, each nominator is requested to answer the following questions:
Who are you nominating?
What is their project?
When did this partnership begin?
Where does the partnership take place?
Why is the partnership worthy of being nominated?
How does the partnership meet the criteria of the award?
How will this partnership use the award money to further their efforts

Faculty Member CV(s)
Three (3) Letters/Statements of Reference for the project/initiative for its impact on the public good. Similar to the nomination submission from the initial nominator (see 1 above), and speaking to the evaluation criteria noted above, these statements may take either a written, video or audio form.
The achievements of award recipients will be acknowledged at a community engagement event to be held in 2021.
Please direct any inquiries to Ashley Shinde in the Office of Community Engagement at community@mcmaster.ca.
Appendix
McMaster's Principles of Community Engagement were co-developed with community and university partners as part of the University's community engagement strategic planning process in 2016. 
Appendix A
Principles of Community Engagement
The following action-oriented principles were co-developed by community and University partners to inform our community-campus partnerships:
Relationships: We can't have community without relationships—these are the connections that build community. Any successful partnership must be built on trusting and respectful relationships guided by integrity. We realize that relationships take time to develop and thus we commit to providing opportunities to connect people across communities, sectors, and disciplines.

Reciprocity:

From design, to participation, to the outcomes of a project, we strive to work together for mutual benefit.

Equity:

We are conscious of the historical and structural inequities that exist in society and strive to provide access and opportunities to all residents and members of our communities.
Continuity: Acknowledging that different communities work on different timelines and schedules, we strive to consider both the short and long-term implications of our work together.
Openness to Learning: Change takes time. We are committed to continually learn from and evaluate our work together, reflecting on and sharing both our successes and failures to grow as individuals, partnerships, and communities.
Commitment to Act: We aspire to make a positive difference in our community by sharing and acting on our knowledge to contribute to the greater social good.
Appendix B
Community Engaged Research includes:
Action research: a family of research methodologies that pursue action (or change) and research (or understanding) at the same time. Simply put, it is "a way of generating research about a social system while simultaneously attempting to change that system. While conventional social science aims at producing knowledge about social systems (some of which may eventually prove useful to those wishing to effect change), action research seeks both to understand and to alter the problems generated by social systems."1
For the purposes of this award, Community-Based Research (CBR) and Community-Based Participatory Research (CBPR) are equally valued. Some researchers and academics debate differences between these and related approaches, but both approaches clearly centre participation from community members affected by the research or topic of research. For our purposes we will consider them equally.
Community-Based Research is a collaboration between community groups and researchers for the purpose of creating new knowledge or understanding about a practical community issue in order to bring about social change and/or action. It is built from the strengths of communities and is grounded in social justice and equity. It is based on reciprocity and aims to provide mutual benefits to all partners involved. In CBR, knowledge is understood to take many forms, and how data is gathered, understood and shared is done in multiple ways to a variety of audiences. It provides opportunities for co-learning and supports ongoing collaborations among those involved. To this end, it must be "relevant, equitable, and action-oriented" (Hills & Mullett, 2000).2
Community-Based Participatory Research focuses on social, structural, and physical environmental inequities through active involvement of community members, organizational representatives, and researchers in all aspects of the research process. Partners contribute their expertise to enhance understanding of a given phenomenon and integrate the knowledge gained with action to benefit the community involved.3
Program evaluation is "the systematic assessment of the design, implementation or results of an initiative for the purposes of learning or decision-making." To the extent that an evaluation involves the participation of program users in determining definitions and/or indicators of success, and that evaluation findings are used to shape program elements and design, it can be considered to be a form of community-engaged research.
Knowledge Mobilization "means brokering relationships between researchers and non-academic research partners so that research and evidence can inform decisions and understanding about public policy, professional practice and other applications. Knowledge mobilization services include methods of knowledge transfer, knowledge translation and exchange, and extend them to include the co-production of knowledge. Knowledge mobilization turns research into action."
Footnotes
Troppe, Marie. Participatory Action Research: Merging the Community and Scholarly Agendas. Providence: Campus Compact, 1994.
Drawn from: Israel et al., Review of community-based research: Assessing partnership approaches to improve public health. Annual Review of Public Health. 1998;19:173-202;  Israel et al. Critical issues in developing and following CBPR principles. In: Minkler M, Wallerstein N, eds. Community-Based Participatory Research for Health: From Process to Outcomes. 2nd ed. San Francisco: Jossey-Bass, 2008:47-66; Schulz et al. Development and Implementation of Principles for Community-Based Research in Public Health, Journal of Community Practice, 1997; Hills & Mullett. (2000). Community-based research: creating evidence-based practice for health and social change, Paper presented at the Qualitative Evidence-based Practice Conference, Coventry University, May 15-17 2000. Coventry, UK. Retreived from http://www.leeds.ac.uk/educol/documents/00001388.htm
Israel BA, Schulz AJ, Parker EA, Becker AB, Community-Campus Partnerships for Health. Educ Health (Abingdon). 2001; 14(2):182-97.
Who can be the nominator?
Any faculty, staff, student, or community member and/or group that is not a part of the actual initiative.  The nominator must be outside of the partnership group being nominated.
How many letters need to be submitted?
One (1) Nomination Package:  May be written, video, or audio format from the nominator that speaks to the questions listed in Section 1 of the Submission Details.
Three (3) Letters/Statements of Reference for the project/initiative for its impact on the public good that speak to the criteria identified in Section 3 of the Submission Details.  May be written, video, or audio format.
All letters- both the nomination letter and references- must come from individuals outside of the partnership group being nominated.
If someone was granted a Catalyst Grant, are they still eligible for the President's Awards?
Yes.
Who should the Nomination Package be addressed to?
You can address any letters to the "Nomination Committee".
2019 Recipients: Dr. Juliet Daniel & The Olive Branch of Hope
Together, McMaster researcher Juliet Daniel and community advocate Leila Springer are making a difference in the lives of thousands of racialized women.
Daniel, a renowned molecular biologist and professor, has focused much of her research on studying triple negative breast cancer (TNBC) – a particularly aggressive and often fatal form of cancer that disproportionately strikes women of African ancestry.
Springer, the founder and executive director of the Olive Branch of Hope, has spent the past 20 years providing support to Black women in the GTA living with breast cancer.
The two joined forces in 2015, bringing together their unique research and programming strengths to help inform Black women about TBNC and about the risks it poses, particularly to women of African ancestry.
Since then, Daniel and the Olive Branch of Hope have developed a host of educational and fundraising initiatives aimed at increasing awareness of TNBC among women of African ancestry in Hamilton, the GTA, and internationally.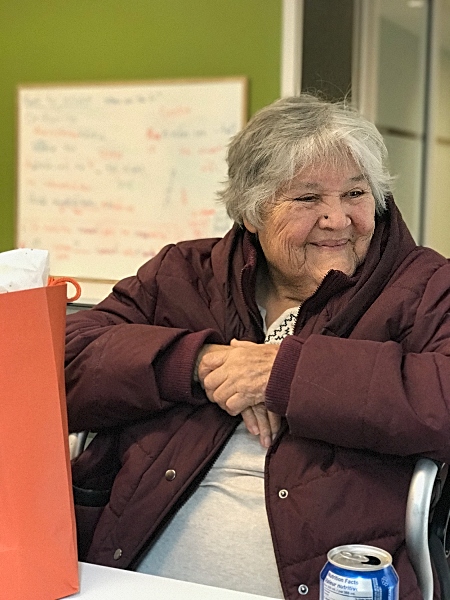 2018 Recipients: Grand River at Mohawk
The Grand River Mohawk at McMaster project– developed by a team of community members, as well as faculty, students and staff from McMaster and Six Nations Polytechnic – aims to preserve a dialect of the Mohawk language spoken at Six Nations of the Grand River by only a handful of speakers, most notably, Mohawk Turtle Clan member, Ima Johnson.
Drawing from methodologies and techniques rooted in Indigenous Knowledge and language revitalization scholarship, team members have worked collaboratively to create numerous Mohawk and Cayuga language recordings and resources, such as baking and cooking-themed Mohawk/Cayuga language lessons; the "Mohawk Word of the Day" – a social media and vocabulary sharing project; and a language toolkit to be shared with Ontario universities on how to respectfully approach Indigenous language and teaching when partnering with Indigenous communities.
The project team includes; Mohawk language teacher and Faith Keeper, Ima Johnson; Indigenous and Indigenous Studies students from McMaster and Six Nations Polytechnic, Kate Brown, Laurie Powless, John Hill, Clare Richardson, Mary-Ellen Simon, Geeg Hill, Scott Longboat and Amber Squire, with Indigenous Studies staff support from Josh Dockstator; the faculty supervisor is Rick Monture, associate professor in McMaster's English and Cultural Studies Department, and past academic director of the Indigenous Studies Program.
2018 Recipients: We are Not the Others
We are Not the Others, developed by Mirna Carranza, associate professor in McMaster's School of Social Work in partnership with Nora López, coordinator, Emergency Support Committee for Refugees; Ines Ríos, executive director of the Immigrants Working Centre; and María Antelo, coordinator of community development at the Hamilton Community Legal Clinic, is a play based on the findings from a research study that aimed to learn how the intersection between acculturation, gender relations and intimate partner violence, intergenerational tensions, trauma, loss and ongoing political fear, and economic exclusion impacts Women Immigrants' mental health and in particular their socio-economic integration to the Hamilton community.
As part of the study, service providers, families and women immigrants were interviewed, many of whom shared their experiences of reception in formal and informal settings, such as schools and grocery stores, and spoke about their experiences of racism and marginalization. The play used their spoken words, including their laughter and sorrow, to depict both their challenges and hopes. It was co-created with women immigrant themselves, as a way to bring their knowledge and stories to a wider audience.